We design and build great mobile friendly ecommerce websites for businesses in Tauranga & the wider Bay of Plenty area.
If are looking to launch an online store, we can create an easy and engaging shopping experience for your customers. Our ecommerce website solutions have the design & functionality to create a successful online business for you.

We use Snipcart for our smaller ecommerce websites and Craft Commerce for our larger ecommerce websites.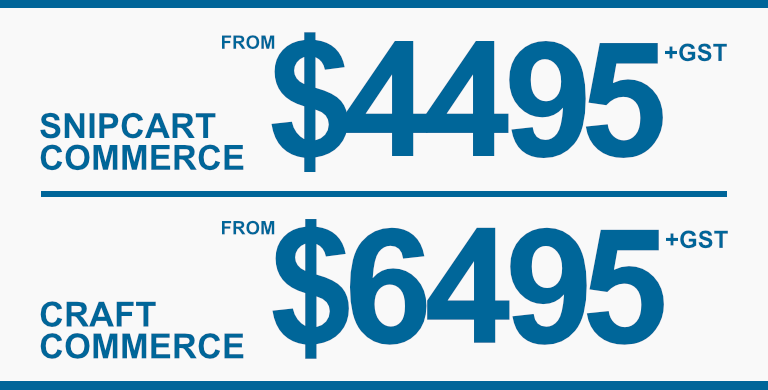 Key features of our eCommerce websites include:
Mobile Friendly / Responsive Web Design (mobile, tablet & desktop layouts)
Custom web design (no templates)
Easy-to-use admin
Full management of products and product categories
Order management with custom statuses
Inventory management
Support for secure downloadable products
Customers do not have to be logged in or have account to purchase
Automatically register members during checkout if you need to
Run promotions, offer discounts and use coupons
Add per-product sale pricing with optional 'on-sale' dates
Customizable order emails
Built-in, exportable order, sales and inventory reports
Customer login areas

Optional ways to extend your eCommerce site:
Email Marketing Campaign & Newsletter Signup using MailChimp
YouTube / Vimeo channel set up and integration with your website
Facebook Like, Pinterest and other Social Media integration
Product Rating System
Store Locator / Installer or Distributor Locator using Google Maps
Wish List functionality (create, share)
Blog / Guides & Advice area (recommended for SEO improvements)

We offer a choice of Payment Solutions:
Stripe - Credit Card payments (our recommendation) and,
PayPal - Credit Card payments and PayPal Account
These two are ideal for the smaller businesses. These both take a small percentage from each sale but alleviate the costs of setting up a Merchant Account.
Windcave (ex PaymentExpress) - All Major Banks in NZ & Australia
Requires setting up a Merchant Account.

*Pricing is in $NZD and subject to GST for New Zealand businesses. All pricing subject to change.